A special thanks to:
Kari @ U Create
The ladies of Sweet Charli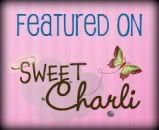 And last but most definitely not least,
Rachel at One Pretty Thing
Thank you for taking the time to check out my tutorial and sharing it with the world! You have NO idea how special that made me feel. I just may be giddy for months now!