Well.. Not so much me as my dear mother who so willingly spray painted all 8 of my frames, 1 corbel, 1 ampersand and a soon to be drop table for my front room. Isn't she wonderful? It helps that she wont allow me to spray paint anymore, due to my lack of success in that area:]
While she's been my love slave, I have become a new employee of what might be the best job on earth.
That's right ladies and gents,
I Am
A PHOENIX.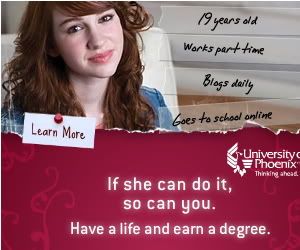 I recently started working for U of P about a week and a half ago and I have to tell you. BEST THING THAT EVER HAPPENED TO ME. It makes me cry, how much i love this job. Now, yes this may just be all the excitement of a new relationship, or the fact that 1 job ago i was crying daily from stress. But nonetheless, I
appreciate
this job and am SO grateful for it.
Life is fairly good right now. I will say that.:]